About Us
China Palace London is a Chinese takeaway in London. Why don't you try our Chinese Style Curry or Crispy Shredded Chilli Chicken?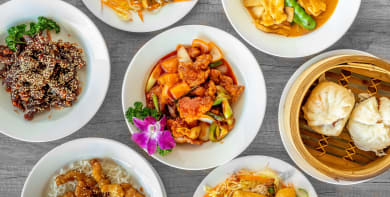 Reviews
598 reviews
Dwen
"Perfect"
09/06/2021
edward
"Salt & pepper wings were nice but seaweed wasn't fresh, still tasted nice but was cold and not fresh."
04/06/2021
C
"Sweet and delicious"
30/05/2021
Mary
"Really nice tasty food meat good quality and the satay chicken was a 10/10."
19/05/2021
Menu
China Palace Mixed Platter
4 vegetable mini spring rolls, 2 quarter sesame prawn toast, 2 chicken skewers topped with satay sauce, spare ribs & crispy seaweed, served with sweet & sour sauce.
£10.95
Vegetable Mini Spring Rolls (12)
Served with sweet & sour sauce
£4.45
Sesame Prawn Toast
Served with sweet & sour sauce
£5.95
Curried Potato Samosas (10)
Served with sweet & sour sauce
£4.45
Spare Ribs A) Honey Sauce
£6.95
Spare Ribs D) Salt & Pepper
£6.95
Spare Ribs E) Spicy Szechuan
£6.95
King Prawns (Battered) A) BBQ Sauce
£6.45
King Prawns (Battered) B) Salt & Pepper
£6.45
King Prawns (Battered) C) Spicy Szechuan
£6.45
Squid (Battered) A) BBQ Sauce
£6.45
Squid (Battered) B) Salt & Pepper
£6.45
Squid (Battered) C) Spicy Szechuan
£6.45
Crispy Chicken (Battered) A) BBQ Sauce
£5.95
Crispy Chicken (Battered) B) Salt & Pepper
£5.95
Crispy Chicken (Battered) C) Spicy Szechuan
£5.95
Chicken Wings A) BBQ Sauce
£5.50
Chicken Wings B) Salt & Pepper
£5.50
Chicken Wings C) Spicy Szechuan
£5.50
Chips B) Salt & Pepper Chips
£3.50
Satay on Skewers (4) A) Chicken
Served with our homemade spicy peanut sauce
£5.95
Satay on Skewers (4) B) King Prawn
Served with our homemade spicy peanut sauce
£6.50
Tempura Prawns (5)
Served with sweet & sour sauce
£5.50
Crispy Crab Claws (5)
Served with sweet & sour sauce
£5.95
Szechuan Hot & Sour Soup B) Egg & Tofu
£4.45
Szechuan Hot & Sour Soup A) Chicken & Shrimp
£4.75
Crab Meat with Sweetcorn Soup
£4.75
Tom Yum Kung Soup
Hot & sour prawn soup with mushrooms, bamboo shoot, fresh chilli, sweet thai basil & tomatoes
£6.45
Tom Yumgai Soup
Hot & sour chicken soup with mushrooms, bamboo shoot, fresh chilli, sweet thai basil & tomatoes
£5.75
Squid in Szechuan Spicy Sauce
£6.95
Squid in Black Bean Sauce
£6.95
Squid in Black Pepper Sauce
£6.95
Squid with Ginger & Spring Onion
£6.95
King Prawns in Szechuan Spicy Sauce
£7.25
King Prawns with Ginger & Spring Onion
£7.25
King Prawns with Mixed Vegetables
£7.25
King Prawns in Black Bean Sauce
£7.25
King Prawns in Black Pepper Sauce
£7.25
King Prawn in Oyster Sauce
£7.25
King Prawn in Satay Sauce
£7.25
King Prawn Thai Pad Prik Pao
£8.25
King Prawn with Cashew Nuts
£7.25
Fried King Prawns in Chilli Sauce
£7.25
Sweet & Sour King Prawns (Hong Kong Style)
£7.25
Sweet & Sour King Prawn Balls (8)
£7.25
Dim Sum A) Siu Mai (5)
Steamed (15 minutes prep time)
£5.95
Dim Sum D) Chicken Dumplings (6)
Steamed (15 minutes prep time)
£5.95
Dim Sum E) Vegetable Dumplings (6)
Steamed (15 minutes prep time)
£5.95
Dim Sum G) Pork Dumplings (6)
Steamed (15 minutes prep time)
£5.95
Dim Sum C) Chicken Buns (4)
Steamed (15 minutes prep time)
£6.45
Dim Sum F) Pork Buns (4)
Steamed (15 minutes prep time)
£6.45
Dim Sum B) Har Kau (5)
Steamed (15 minutes prep time)
£6.55
Spicy Tofu with Mixed Vegetables
£6.45
Stir Fried Mixed Vegetables
£5.45
Vegetables in Black Bean Sauce
£5.65
Sweet & Sour Mixed Vegetables
£5.25
Pak Choy in Garlic & Oyster Sauce
£6.50
Broccoli in Garlic & Oyster Sauce
£6.50
Mixed Vegetables in Szechuan Sauce
£5.95
Mixed Vegetables in Black Pepper Sauce
£5.65
Mixed Vegetables in Cashew Nuts
£5.95
Mixed Vegetables Thai Pad Prik Pao
£6.55
Sweet & Sour Chicken (Hong Kong Style)
£6.45
Sweet & Sour Chicken Balls (8)
£6.45
Crispy Shredded Chilli Chicken
£6.45
Fried Chicken in Chilli Sauce
£6.45
Chicken with Mixed Vegetables
£6.45
Chicken in Szechuan Spicy Sauce
£6.45
Chicken in Black Bean Sauce
£6.45
Chicken in Black Pepper Sauce
£6.45
Chicken with Wild Mushrooms & Bamboo Shoots
£6.45
Chicken with Ginger & Spring Onion
£6.45
Chicken Thai Pad Prik Pao
£7.45
Aromatic Crispy Duck A) Quarter
Served with cucumber, spring onions, pancakes & hoisin sauce
£8.95
Aromatic Crispy Duck B) Half
Served with cucumber, spring onions, pancakes & hoisin sauce
£16.55
Aromatic Crispy Duck C) Whole
Served with cucumber, spring onions, pancakes & hoisin sauce
£31.95
Roast Duck with Mixed Vegetables
£6.95
Roast Duck in Black Bean Sauce
£6.95
Roast Duck in Black Pepper Sauce
£6.95
Roast Duck in Satay Sauce
£6.95
Roast Duck with Mushrooms
£6.95
Roast Duck with Ginger & Spring Onion
£6.95
Roast Duck with Pineapple
£6.95
Roast Duck Thai Pad Prik Pao
£7.95
Beef A. Beef with Ginger & Spring Onions
£6.95
Beef B. Crispy Shredded Beef with Chilli & Carrots
£6.95
Beef C. Beef in Black Bean Sauce
£6.95
Beef D. Beef in Black Pepper Sauce
£6.95
Beef E. Beef Chop Suey (Bean Shoots)
£6.95
Beef F. Beef in Oyster Sauce
£6.95
Beef G. Beef with Mushroom
£6.95
Beef H. Beef Thai Pad Prik Pao
£7.45
Pork A. Sweet & Sour Pork (Hong Kong style)
£6.75
Pork B. Roast Pork in Black Bean Sauce
£6.75
Pork C. Roast Pork in Black Pepper Sauce
£6.75
Pork D. Roast Pork with Satay Sauce
£6.75
Pork E. Roast Pork with Szechuan Sauce
£6.75
Pork F. Roast Pork with Oyster Sauce
£6.75
Pork G. Roast Pork with Ginger & Spring Onion
£6.75
Pork H. Roast Pork Thai Pad Prik Pao
£7.45
Fried Rice A) Special (Chicken, Pork & Shrimp)
£6.95
Singapore Fried Rice B) Vegetable
£5.45
Singapore Fried Rice H) Pork
£6.45
Singapore Fried Rice C) Chicken
£6.65
Singapore Fried Rice D) Shrimp
£6.85
Singapore Fried Rice E) Beef
£6.85
Singapore Fried Rice G) Roast Duck
£6.85
Singapore Fried Rice A) Special (Chicken, Pork & Shrimp)
£6.95
Singapore Fried Rice F) King Prawn
£7.25
Nasi Goreng Fried Rice
Chicken, shrimps & king prawns
£7.65
King Prawn Pineapple Fried Rice
Wok fried rice with king prawns, egg, pineapple, onion, cashew nuts, spring onion & carrot
£7.65
Chow Mein (Egg Noodles - Dry) B) Vegetable
£5.45
Chow Mein (Egg Noodles - Dry) C) Chicken
£6.45
Chow Mein (Egg Noodles - Dry) H) Pork
£6.45
Chow Mein (Egg Noodles - Dry) D) Shrimp
£6.55
Chow Mein (Egg Noodles - Dry) E) Beef
£6.65
Chow Mein (Egg Noodles - Dry) G) Roast Duck
£6.65
Chow Mein (Egg Noodles - Dry) F) King Prawn
£6.85
Chow Mein (Egg Noodles - Dry) A) Special (Chicken, Pork, Beef & King Prawn)
£7.85
Singapore Vermicelli Noodles (Rice Noodles - Dry) B) Vegetable
£5.45
Singapore Vermicelli Noodles (Rice Noodles - Dry) C) Chicken
£6.45
Singapore Vermicelli Noodles (Rice Noodles - Dry) H) Pork
£6.45
Singapore Vermicelli Noodles (Rice Noodles - Dry) D) Shrimp
£6.55
Singapore Vermicelli Noodles (Rice Noodles - Dry) E) Beef
£6.65
Singapore Vermicelli Noodles (Rice Noodles - Dry) G) Roast Duck
£6.65
Singapore Vermicelli Noodles (Rice Noodles - Dry) A) Special (Chicken, Pork & Shrimp)
£6.75
Singapore Vermicelli Noodles (Rice Noodles - Dry) F) King Prawn
£6.85
Singapore Noodles (Egg Noodles - Dry) B) Vegetable
£5.45
Singapore Noodles (Egg Noodles - Dry) C) Chicken
£6.45
Singapore Noodles (Egg Noodles - Dry) H) Pork
£6.45
Singapore Noodles (Egg Noodles - Dry) D) Shrimp
£6.55
Singapore Noodles (Egg Noodles - Dry) E) Beef
£6.65
Singapore Noodles (Egg Noodles - Dry) G) Roast Duck
£6.65
Singapore Noodles (Egg Noodles - Dry) A) Special (Chicken, Pork & Shrimp)
£6.75
Singapore Noodles (Egg Noodles - Dry) F) King Prawn
£6.85
House Special Noodles (Egg Noodles with Gravy) B) Vegetable
£5.45
House Special Noodles (Egg Noodles with Gravy) C) Chicken
£6.55
House Special Noodles (Egg Noodles with Gravy) H) Pork
£6.55
House Special Noodles (Egg Noodles with Gravy) D) Shrimp
£6.65
House Special Noodles (Egg Noodles with Gravy) E) Beef
£6.75
House Special Noodles (Egg Noodles with Gravy) G) Roast Duck
£6.85
House Special Noodles (Egg Noodles with Gravy) F) King Prawn
£6.95
House Special Noodles (Egg Noodles with Gravy) A) Special (Chicken, Pork & Beef)
£7.45
Crispy Noodles (Egg Noodles with Gravy) B) Vegetable
£5.45
Crispy Noodles (Egg Noodles with Gravy) C) Chicken
£6.55
Crispy Noodles (Egg Noodles with Gravy) H) Pork
£6.55
Crispy Noodles (Egg Noodles with Gravy) D) Shrimp
£6.65
Crispy Noodles (Egg Noodles with Gravy) E) Beef
£6.75
Crispy Noodles (Egg Noodles with Gravy) G) Roast Duck
£6.85
Crispy Noodles (Egg Noodles with Gravy) F) King Prawn
£6.95
Crispy Noodles (Egg Noodles with Gravy) I) Duck & Pork
£7.25
Crispy Noodles (Egg Noodles with Gravy) A) Special (Chicken, Pork & Beef)
£7.45
Pad Thai Noodles B) Vegetable
Wok fried rice noodles with carrot, egg, spring onion, bean sprouts, shrimp paste and sweet pad-thai sauce, topped with crushed peanuts & a slice of lemon
£6.25
Pad Thai Noodles C) Chicken
Wok fried rice noodles with carrot, egg, spring onion, bean sprouts, shrimp paste and sweet pad-thai sauce, topped with crushed peanuts & a slice of lemon
£7.50
Pad Thai Noodles G) Pork
Wok fried rice noodles with carrot, egg, spring onion, bean sprouts, shrimp paste and sweet pad-thai sauce, topped with crushed peanuts & a slice of lemon
£7.55
Pad Thai Noodles D) Beef
Wok fried rice noodles with carrot, egg, spring onion, bean sprouts, shrimp paste and sweet pad-thai sauce, topped with crushed peanuts & a slice of lemon
£7.75
Pad Thai Noodles F) Roast Duck
Wok fried rice noodles with carrot, egg, spring onion, bean sprouts, shrimp paste and sweet pad-thai sauce, topped with crushed peanuts & a slice of lemon
£7.75
Pad Thai Noodles E) King Prawn
Wok fried rice noodles with carrot, egg, spring onion, bean sprouts, shrimp paste and sweet pad-thai sauce, topped with crushed peanuts & a slice of lemon
£7.95
Pad Thai Noodles A) Special (Chicken, Pork, Beef & King Prawn)
Wok fried rice noodles with carrot, egg, spring onion, bean sprouts, shrimp paste and sweet pad-thai sauce, topped with crushed peanuts & a slice of lemon
£8.25
Chinese Style Curry B) Vegetable
With mushrooms, peas, fresh chilli, carrots, green peppers & onions
£6.65
Chinese Style Curry C) Chicken
With mushrooms, peas, fresh chilli, carrots, green peppers & onions
£6.95
Chinese Style Curry D) Beef
With mushrooms, peas, fresh chilli, carrots, green peppers & onions
£6.95
Chinese Style Curry G) Pork
With mushrooms, peas, fresh chilli, carrots, green peppers & onions
£6.95
Chinese Style Curry F) Roast Duck
With mushrooms, peas, fresh chilli, carrots, green peppers & onions
£7.25
Chinese Style Curry A) Special (King Prawn, Chicken, Beef & Roast Pork)
With mushrooms, peas, fresh chilli, carrots, green peppers & onions
£7.45
Chinese Style Curry E) King Prawn
With mushrooms, peas, fresh chilli, carrots, green peppers & onions
£7.65
Thai Green Curry B) Vegetable
With Thai aubergine, bamboo shoot, fresh chilli, sweet thai basil, carrots & coconut milk
£6.65
Thai Green Curry C) Chicken
With Thai aubergine, bamboo shoot, fresh chilli, sweet thai basil, carrots & coconut milk
£6.95
Thai Green Curry D) Beef
With Thai aubergine, bamboo shoot, fresh chilli, sweet thai basil, carrots & coconut milk
£6.95
Thai Green Curry G) Pork
With Thai aubergine, bamboo shoot, fresh chilli, sweet thai basil, carrots & coconut milk
£6.95
Thai Green Curry F) Roast Duck
With Thai aubergine, bamboo shoot, fresh chilli, sweet thai basil, carrots & coconut milk
£7.25
Thai Green Curry E) King Prawn
With Thai aubergine, bamboo shoot, fresh chilli, sweet thai basil, carrots & coconut milk
£7.65
Thai Green Curry A) Special (King Prawn, Chicken, Beef & Roast Pork)
With Thai aubergine, bamboo shoot, fresh chilli, sweet thai basil, carrots & coconut milk
£7.95
Thai Red Curry B) Vegetable
With Thai aubergine, bamboo shoot, fresh chilli, sweet thai basil, carrots & coconut milk
£6.65
Thai Red Curry C) Chicken
With Thai aubergine, bamboo shoot, fresh chilli, sweet thai basil, carrots & coconut milk
£6.95
Thai Red Curry D) Beef
With Thai aubergine, bamboo shoot, fresh chilli, sweet thai basil, carrots & coconut milk
£6.95
Thai Red Curry G) Pork
With Thai aubergine, bamboo shoot, fresh chilli, sweet thai basil, carrots & coconut milk
£6.95
Thai Red Curry F) Roast Duck
With Thai aubergine, bamboo shoot, fresh chilli, sweet thai basil, carrots & coconut milk
£7.25
Thai Red Curry E) King Prawn
With Thai aubergine, bamboo shoot, fresh chilli, sweet thai basil, carrots & coconut milk
£7.65
Thai Red Curry A) Special (King Prawn, Chicken, Beef & Roast Pork)
With Thai aubergine, bamboo shoot, fresh chilli, sweet thai basil, carrots & coconut milk
£7.95
Omelette E. Special (Chicken, Pork & Shrimp)
£6.75
Häagen-Dazs A) Cookies & Cream
£5.99
Häagen-Dazs B) Strawberry Cheesecake
£5.99
Häagen-Dazs D) Belgian Chocolate
£5.99
Häagen-Dazs F) Pralines & Cream
£5.99
Contact Us
Find Us
466 Garratt Lane, London, SW184HL
We deliver to
CR4, SM4, SW11, SW12, SW15, SW16, SW17, SW18, SW19, SW20, SW6