About Us
China Palace London is a Chinese takeaway in London. Why don't you try our Chinese Style Curry or Crispy Shredded Chilli Chicken?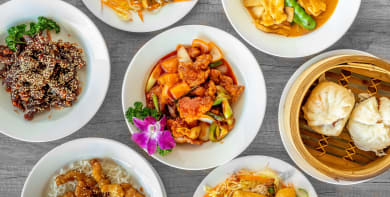 Reviews
622 reviews
charlotte
"The best chinese! Would never order from anywhere else!"
10/05/2021
Niall
"Totally awesome and loads of it, perfect all round!"
09/05/2021
Osama
"The best chicken wings ever! And man the portions are so big! Thank you so much! 谢谢你"
09/05/2021
Tony
"This is our 'go to' Chinese take away place. Great crispy duck!"
05/05/2021
Menu
China Palace Mixed Platter
4 vegetable mini spring rolls, 2 quarter sesame prawn toast, 2 chicken skewers topped with satay sauce, spare ribs & crispy seaweed, served with sweet & sour sauce.
£10.95
Vegetable Mini Spring Rolls (12)
Served with sweet & sour sauce
£4.45
Sesame Prawn Toast
Served with sweet & sour sauce
£5.95
Curried Potato Samosas (10)
Served with sweet & sour sauce
£4.45
Spare Ribs A) Honey Sauce
£6.95
Spare Ribs D) Salt & Pepper
£6.95
Spare Ribs E) Spicy Szechuan
£6.95
King Prawns (Battered) A) BBQ Sauce
£6.45
King Prawns (Battered) B) Salt & Pepper
£6.45
King Prawns (Battered) C) Spicy Szechuan
£6.45
Squid (Battered) A) BBQ Sauce
£6.45
Squid (Battered) B) Salt & Pepper
£6.45
Squid (Battered) C) Spicy Szechuan
£6.45
Crispy Chicken (Battered) A) BBQ Sauce
£5.95
Crispy Chicken (Battered) B) Salt & Pepper
£5.95
Crispy Chicken (Battered) C) Spicy Szechuan
£5.95
Chicken Wings A) BBQ Sauce
£5.50
Chicken Wings B) Salt & Pepper
£5.50
Chicken Wings C) Spicy Szechuan
£5.50
Chips B) Salt & Pepper Chips
£3.50
Satay on Skewers (4) A) Chicken
Served with our homemade spicy peanut sauce
£5.95
Satay on Skewers (4) B) King Prawn
Served with our homemade spicy peanut sauce
£6.50
Tempura Prawns (5)
Served with sweet & sour sauce
£5.50
Crispy Crab Claws (5)
Served with sweet & sour sauce
£5.95
Szechuan Hot & Sour Soup B) Egg & Tofu
£4.45
Szechuan Hot & Sour Soup A) Chicken & Shrimp
£4.75
Crab Meat with Sweetcorn Soup
£4.75
Tom Yum Kung Soup
Hot & sour prawn soup with mushrooms, bamboo shoot, fresh chilli, sweet thai basil & tomatoes
£6.45
Tom Yumgai Soup
Hot & sour chicken soup with mushrooms, bamboo shoot, fresh chilli, sweet thai basil & tomatoes
£5.75
Squid in Szechuan Spicy Sauce
£6.95
Squid in Black Bean Sauce
£6.95
Squid in Black Pepper Sauce
£6.95
Squid with Ginger & Spring Onion
£6.95
King Prawns in Szechuan Spicy Sauce
£7.25
King Prawns with Ginger & Spring Onion
£7.25
King Prawns with Mixed Vegetables
£7.25
King Prawns in Black Bean Sauce
£7.25
King Prawns in Black Pepper Sauce
£7.25
King Prawn in Oyster Sauce
£7.25
King Prawn in Satay Sauce
£7.25
King Prawn Thai Pad Prik Pao
£8.25
King Prawn with Cashew Nuts
£7.25
Fried King Prawns in Chilli Sauce
£7.25
Sweet & Sour King Prawns (Hong Kong Style)
£7.25
Sweet & Sour King Prawn Balls (8)
£7.25
Dim Sum A) Siu Mai (5)
Steamed (15 minutes prep time)
£5.95
Dim Sum D) Chicken Dumplings (6)
Steamed (15 minutes prep time)
£5.95
Dim Sum E) Vegetable Dumplings (6)
Steamed (15 minutes prep time)
£5.95
Dim Sum G) Pork Dumplings (6)
Steamed (15 minutes prep time)
£5.95
Dim Sum C) Chicken Buns (4)
Steamed (15 minutes prep time)
£6.45
Dim Sum F) Pork Buns (4)
Steamed (15 minutes prep time)
£6.45
Dim Sum B) Har Kau (5)
Steamed (15 minutes prep time)
£6.55
Spicy Tofu with Mixed Vegetables
£6.45
Stir Fried Mixed Vegetables
£5.45
Vegetables in Black Bean Sauce
£5.65
Sweet & Sour Mixed Vegetables
£5.25
Pak Choy in Garlic & Oyster Sauce
£6.50
Broccoli in Garlic & Oyster Sauce
£6.50
Mixed Vegetables in Szechuan Sauce
£5.95
Mixed Vegetables in Black Pepper Sauce
£5.65
Mixed Vegetables in Cashew Nuts
£5.95
Mixed Vegetables Thai Pad Prik Pao
£6.55
Sweet & Sour Chicken (Hong Kong Style)
£6.45
Sweet & Sour Chicken Balls (8)
£6.45
Crispy Shredded Chilli Chicken
£6.45
Fried Chicken in Chilli Sauce
£6.45
Chicken with Mixed Vegetables
£6.45
Chicken in Szechuan Spicy Sauce
£6.45
Chicken in Black Bean Sauce
£6.45
Chicken in Black Pepper Sauce
£6.45
Chicken with Wild Mushrooms & Bamboo Shoots
£6.45
Chicken with Ginger & Spring Onion
£6.45
Chicken Thai Pad Prik Pao
£7.45
Aromatic Crispy Duck A) Quarter
Served with cucumber, spring onions, pancakes & hoisin sauce
£8.95
Aromatic Crispy Duck B) Half
Served with cucumber, spring onions, pancakes & hoisin sauce
£16.55
Aromatic Crispy Duck C) Whole
Served with cucumber, spring onions, pancakes & hoisin sauce
£31.95
Roast Duck with Mixed Vegetables
£6.95
Roast Duck in Black Bean Sauce
£6.95
Roast Duck in Black Pepper Sauce
£6.95
Roast Duck in Satay Sauce
£6.95
Roast Duck with Mushrooms
£6.95
Roast Duck with Ginger & Spring Onion
£6.95
Roast Duck with Pineapple
£6.95
Roast Duck Thai Pad Prik Pao
£7.95
Beef A. Beef with Ginger & Spring Onions
£6.95
Beef B. Crispy Shredded Beef with Chilli & Carrots
£6.95
Beef C. Beef in Black Bean Sauce
£6.95
Beef D. Beef in Black Pepper Sauce
£6.95
Beef E. Beef Chop Suey (Bean Shoots)
£6.95
Beef F. Beef in Oyster Sauce
£6.95
Beef G. Beef with Mushroom
£6.95
Beef H. Beef Thai Pad Prik Pao
£7.45
Pork A. Sweet & Sour Pork (Hong Kong style)
£6.75
Pork B. Roast Pork in Black Bean Sauce
£6.75
Pork C. Roast Pork in Black Pepper Sauce
£6.75
Pork D. Roast Pork with Satay Sauce
£6.75
Pork E. Roast Pork with Szechuan Sauce
£6.75
Pork F. Roast Pork with Oyster Sauce
£6.75
Pork G. Roast Pork with Ginger & Spring Onion
£6.75
Pork H. Roast Pork Thai Pad Prik Pao
£7.45
Fried Rice A) Special (Chicken, Pork & Shrimp)
£6.95
Singapore Fried Rice B) Vegetable
£5.45
Singapore Fried Rice H) Pork
£6.45
Singapore Fried Rice C) Chicken
£6.65
Singapore Fried Rice D) Shrimp
£6.85
Singapore Fried Rice E) Beef
£6.85
Singapore Fried Rice G) Roast Duck
£6.85
Singapore Fried Rice A) Special (Chicken, Pork & Shrimp)
£6.95
Singapore Fried Rice F) King Prawn
£7.25
Nasi Goreng Fried Rice
Chicken, shrimps & king prawns
£7.65
King Prawn Pineapple Fried Rice
Wok fried rice with king prawns, egg, pineapple, onion, cashew nuts, spring onion & carrot
£7.65
Chow Mein (Egg Noodles - Dry) B) Vegetable
£5.45
Chow Mein (Egg Noodles - Dry) C) Chicken
£6.45
Chow Mein (Egg Noodles - Dry) H) Pork
£6.45
Chow Mein (Egg Noodles - Dry) D) Shrimp
£6.55
Chow Mein (Egg Noodles - Dry) E) Beef
£6.65
Chow Mein (Egg Noodles - Dry) G) Roast Duck
£6.65
Chow Mein (Egg Noodles - Dry) F) King Prawn
£6.85
Chow Mein (Egg Noodles - Dry) A) Special (Chicken, Pork, Beef & King Prawn)
£7.85
Singapore Vermicelli Noodles (Rice Noodles - Dry) B) Vegetable
£5.45
Singapore Vermicelli Noodles (Rice Noodles - Dry) C) Chicken
£6.45
Singapore Vermicelli Noodles (Rice Noodles - Dry) H) Pork
£6.45
Singapore Vermicelli Noodles (Rice Noodles - Dry) D) Shrimp
£6.55
Singapore Vermicelli Noodles (Rice Noodles - Dry) E) Beef
£6.65
Singapore Vermicelli Noodles (Rice Noodles - Dry) G) Roast Duck
£6.65
Singapore Vermicelli Noodles (Rice Noodles - Dry) A) Special (Chicken, Pork & Shrimp)
£6.75
Singapore Vermicelli Noodles (Rice Noodles - Dry) F) King Prawn
£6.85
Singapore Noodles (Egg Noodles - Dry) B) Vegetable
£5.45
Singapore Noodles (Egg Noodles - Dry) C) Chicken
£6.45
Singapore Noodles (Egg Noodles - Dry) H) Pork
£6.45
Singapore Noodles (Egg Noodles - Dry) D) Shrimp
£6.55
Singapore Noodles (Egg Noodles - Dry) E) Beef
£6.65
Singapore Noodles (Egg Noodles - Dry) G) Roast Duck
£6.65
Singapore Noodles (Egg Noodles - Dry) A) Special (Chicken, Pork & Shrimp)
£6.75
Singapore Noodles (Egg Noodles - Dry) F) King Prawn
£6.85
House Special Noodles (Egg Noodles with Gravy) B) Vegetable
£5.45
House Special Noodles (Egg Noodles with Gravy) C) Chicken
£6.55
House Special Noodles (Egg Noodles with Gravy) H) Pork
£6.55
House Special Noodles (Egg Noodles with Gravy) D) Shrimp
£6.65
House Special Noodles (Egg Noodles with Gravy) E) Beef
£6.75
House Special Noodles (Egg Noodles with Gravy) G) Roast Duck
£6.85
House Special Noodles (Egg Noodles with Gravy) F) King Prawn
£6.95
House Special Noodles (Egg Noodles with Gravy) A) Special (Chicken, Pork & Beef)
£7.45
Crispy Noodles (Egg Noodles with Gravy) B) Vegetable
£5.45
Crispy Noodles (Egg Noodles with Gravy) C) Chicken
£6.55
Crispy Noodles (Egg Noodles with Gravy) H) Pork
£6.55
Crispy Noodles (Egg Noodles with Gravy) D) Shrimp
£6.65
Crispy Noodles (Egg Noodles with Gravy) E) Beef
£6.75
Crispy Noodles (Egg Noodles with Gravy) G) Roast Duck
£6.85
Crispy Noodles (Egg Noodles with Gravy) F) King Prawn
£6.95
Crispy Noodles (Egg Noodles with Gravy) I) Duck & Pork
£7.25
Crispy Noodles (Egg Noodles with Gravy) A) Special (Chicken, Pork & Beef)
£7.45
Pad Thai Noodles B) Vegetable
Wok fried rice noodles with carrot, egg, spring onion, bean sprouts, shrimp paste and sweet pad-thai sauce, topped with crushed peanuts & a slice of lemon
£6.25
Pad Thai Noodles C) Chicken
Wok fried rice noodles with carrot, egg, spring onion, bean sprouts, shrimp paste and sweet pad-thai sauce, topped with crushed peanuts & a slice of lemon
£7.50
Pad Thai Noodles G) Pork
Wok fried rice noodles with carrot, egg, spring onion, bean sprouts, shrimp paste and sweet pad-thai sauce, topped with crushed peanuts & a slice of lemon
£7.55
Pad Thai Noodles D) Beef
Wok fried rice noodles with carrot, egg, spring onion, bean sprouts, shrimp paste and sweet pad-thai sauce, topped with crushed peanuts & a slice of lemon
£7.75
Pad Thai Noodles F) Roast Duck
Wok fried rice noodles with carrot, egg, spring onion, bean sprouts, shrimp paste and sweet pad-thai sauce, topped with crushed peanuts & a slice of lemon
£7.75
Pad Thai Noodles E) King Prawn
Wok fried rice noodles with carrot, egg, spring onion, bean sprouts, shrimp paste and sweet pad-thai sauce, topped with crushed peanuts & a slice of lemon
£7.95
Pad Thai Noodles A) Special (Chicken, Pork, Beef & King Prawn)
Wok fried rice noodles with carrot, egg, spring onion, bean sprouts, shrimp paste and sweet pad-thai sauce, topped with crushed peanuts & a slice of lemon
£8.25
Chinese Style Curry B) Vegetable
With mushrooms, peas, fresh chilli, carrots, green peppers & onions
£6.65
Chinese Style Curry C) Chicken
With mushrooms, peas, fresh chilli, carrots, green peppers & onions
£6.95
Chinese Style Curry D) Beef
With mushrooms, peas, fresh chilli, carrots, green peppers & onions
£6.95
Chinese Style Curry G) Pork
With mushrooms, peas, fresh chilli, carrots, green peppers & onions
£6.95
Chinese Style Curry F) Roast Duck
With mushrooms, peas, fresh chilli, carrots, green peppers & onions
£7.25
Chinese Style Curry A) Special (King Prawn, Chicken, Beef & Roast Pork)
With mushrooms, peas, fresh chilli, carrots, green peppers & onions
£7.45
Chinese Style Curry E) King Prawn
With mushrooms, peas, fresh chilli, carrots, green peppers & onions
£7.65
Thai Green Curry B) Vegetable
With Thai aubergine, bamboo shoot, fresh chilli, sweet thai basil, carrots & coconut milk
£6.65
Thai Green Curry C) Chicken
With Thai aubergine, bamboo shoot, fresh chilli, sweet thai basil, carrots & coconut milk
£6.95
Thai Green Curry D) Beef
With Thai aubergine, bamboo shoot, fresh chilli, sweet thai basil, carrots & coconut milk
£6.95
Thai Green Curry G) Pork
With Thai aubergine, bamboo shoot, fresh chilli, sweet thai basil, carrots & coconut milk
£6.95
Thai Green Curry F) Roast Duck
With Thai aubergine, bamboo shoot, fresh chilli, sweet thai basil, carrots & coconut milk
£7.25
Thai Green Curry E) King Prawn
With Thai aubergine, bamboo shoot, fresh chilli, sweet thai basil, carrots & coconut milk
£7.65
Thai Green Curry A) Special (King Prawn, Chicken, Beef & Roast Pork)
With Thai aubergine, bamboo shoot, fresh chilli, sweet thai basil, carrots & coconut milk
£7.95
Thai Red Curry B) Vegetable
With Thai aubergine, bamboo shoot, fresh chilli, sweet thai basil, carrots & coconut milk
£6.65
Thai Red Curry C) Chicken
With Thai aubergine, bamboo shoot, fresh chilli, sweet thai basil, carrots & coconut milk
£6.95
Thai Red Curry D) Beef
With Thai aubergine, bamboo shoot, fresh chilli, sweet thai basil, carrots & coconut milk
£6.95
Thai Red Curry G) Pork
With Thai aubergine, bamboo shoot, fresh chilli, sweet thai basil, carrots & coconut milk
£6.95
Thai Red Curry F) Roast Duck
With Thai aubergine, bamboo shoot, fresh chilli, sweet thai basil, carrots & coconut milk
£7.25
Thai Red Curry E) King Prawn
With Thai aubergine, bamboo shoot, fresh chilli, sweet thai basil, carrots & coconut milk
£7.65
Thai Red Curry A) Special (King Prawn, Chicken, Beef & Roast Pork)
With Thai aubergine, bamboo shoot, fresh chilli, sweet thai basil, carrots & coconut milk
£7.95
Omelette E. Special (Chicken, Pork & Shrimp)
£6.75
Häagen-Dazs A) Cookies & Cream
£5.99
Häagen-Dazs B) Strawberry Cheesecake
£5.99
Häagen-Dazs D) Belgian Chocolate
£5.99
Häagen-Dazs F) Pralines & Cream
£5.99
Contact Us
Find Us
466 Garratt Lane, London, SW184HL
We deliver to
CR4, SM4, SW11, SW12, SW15, SW16, SW17, SW18, SW19, SW20, SW6